We are a little late to the party, but nonetheless, Happy New Year!
2022 was a really busy and impactful year for AFRIpads. So, before we begin sharing with you a newsletter on our exciting 2023 plans, we wanted to take a moment to look back at some of our favorite moments and AFRIpads partnerships from last year.
February 2022: IOM Mozambique and AFRIpads
Here at AFRIpads, we believe that the best way to build knowledge on Menstrual Health and Hygiene (MHH) is to speak directly to women and girls about their own experiences. We were therefore so excited when the International Organization for Migration (IOM) Mozambique office engaged AFRIpads to undertake a pilot study. The aim of the pilot study was to build better understanding of the acceptability and appropriateness of AFRIpads reusable sanitary pads among women and adolescents aged 13-29 in Mozambique. The findings from this pilot demonstrated that reusable pads (AFRIpads) are highly acceptable to young women and girls in Mozambique. This collaborative process also led to IOM signing a Long Term Agreement (LTA) for the recurring supply and delivery of AFRIpads products with IOM globally.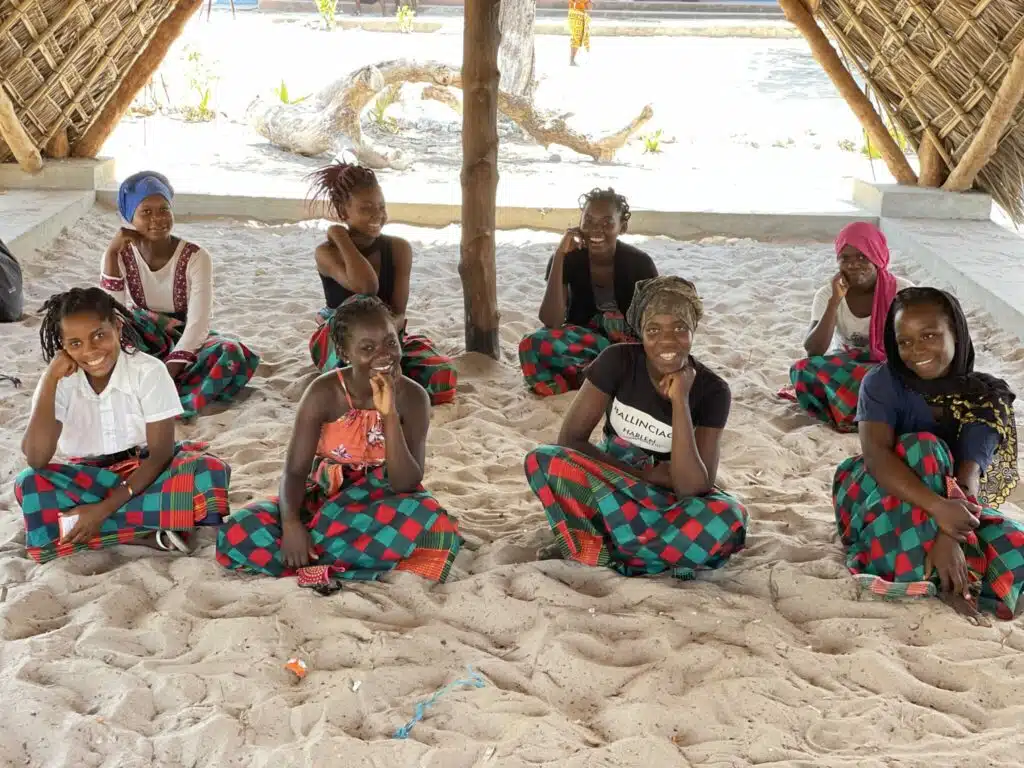 March 2022: Showcasing Female MHH Changemakers
In March, AFRIpads launched the International Women's Day Sustainable Champion Awards. We chose 5 women from across Africa who are championing gender equality in their communities with a sustainable approach. All of you voted for your favorite candidate and we were thrilled to crown Rosette Mariki, from Lyra in Africa in Tanzania the winner!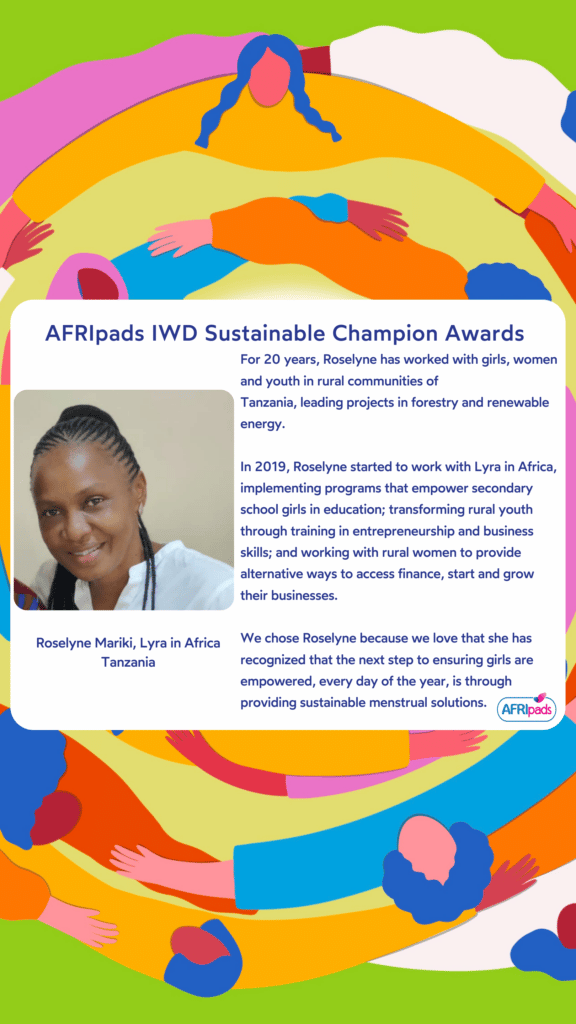 May 2022: MH Day
On 28 May 2022, the world celebrated Menstrual Hygiene Day. Alongside a number of activities and events, AFRIpads partnered with The Wellbeing Foundation and My Period is Awesome to undergo the Menstrual Shebang.
The Menstrual Shebang is an annual Fashion Show that launched in 2021 with an aim to start a conversation about menstruation and showcase how we can get creative with these issues. This year, the fashion show widened its scope to celebrate Sexual Reproductive Health and Rights (SRHR) – seven fashion designers created outfits in line with SRHR and MHH topics.
All funds raised from the Fashion Show went to support the girls at the Menstrual Station with MHH supplies, education and "period friendly" toilets and spaces. Alongside donating 100 AFRIpads Schoolgirl Kits and Underwear to the Wellbeing Foundation's Kisenyi Menstrual Station, we took the opportunity to go backstage and meet the models and fashion designers and provide them with basic Menstrual Health and Hygiene training as well as gift them all with AFRIpads products.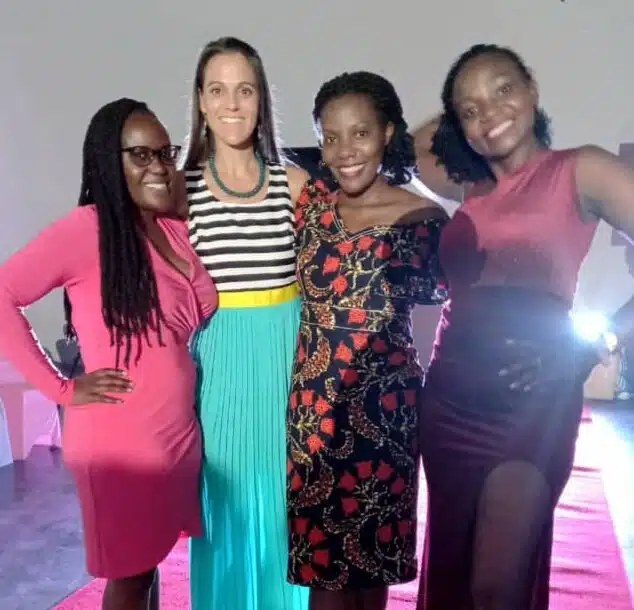 September 2022: A Journey with A Hope
On Friday, 6th September 2019, 14 year old Jackline Chepngeno took her own life after being period shamed at school. On Friday 6th September 2022, a documentary was shared titled 'A Journey with a Hope' which saw Jackeline's family and friends recounting what happened on that dreaded day. We begun working with the documentary makers, Be Forward With Us, in January 2021 after they reached out to us for guidance and expertise on Menstrual Health and Hygiene in Kenya.
AFRIpads Partnerships and Business Development Manager, Muna features in this important documentary and we encourage everyone to take the time to learn more about what we can do to combat period shame. You can read more about the story and stream the film via Ozy.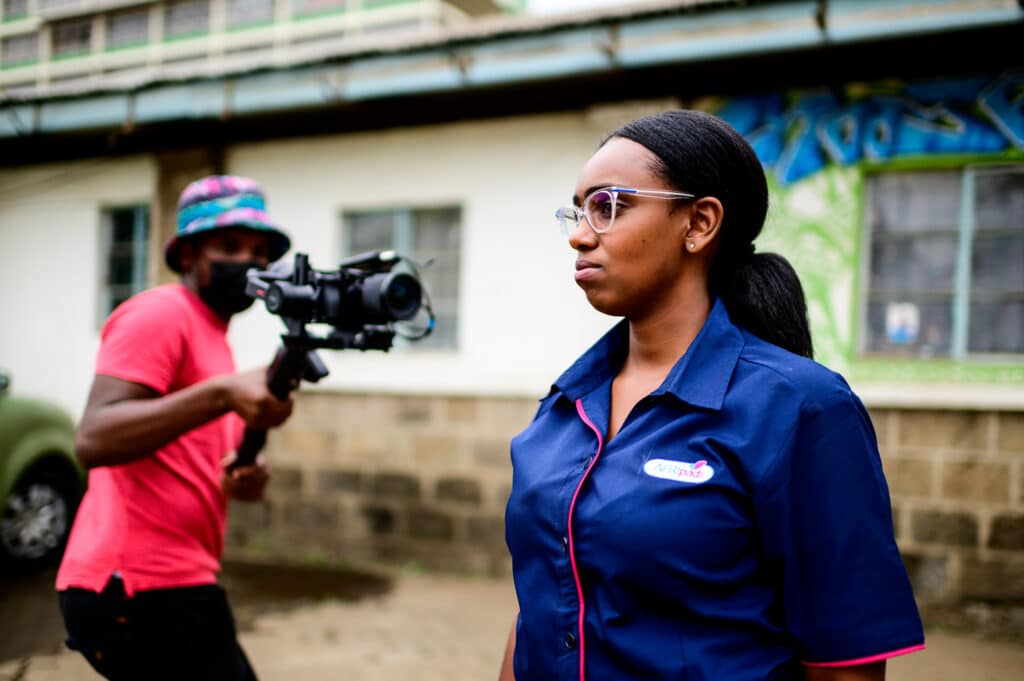 November 2022: #5MillionAFRIpads
Towards the end of last year, we celebrated a HUGE milestone. Since we launched in 2010, we have now reached over 5,000,000 women and girls with our dignified menstrual solution.
It goes without saying that we would not have been able to manufacture #5MillionAFRIpads without the support from our partners! So, keep supporting our important work so that together, we can overcome all menstrual barriers and achieve gender equality.
P.S. Watch this space for some exciting 2023 plans.