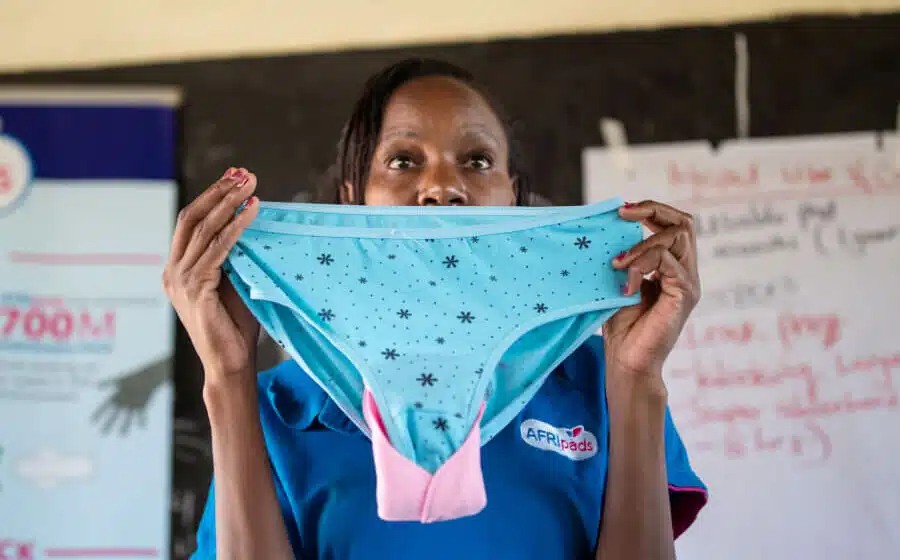 COST-EFFECTIVE
The average woman will have 400 periods in her lifetime. That means she will spend over 3,500 days of her life menstruating. Yet for millions, the monthly cost of single-use menstrual products is simply unaffordable.
One of the main reasons individuals and organizations switch to reusable pads is because of the clear cost benefits they create. Reusable pads can be washed, dried and used again for a minimum of 12 months making them a highly cost-effective solution. To put it into perspective, one AFRIpads Standard 4-pack is three times more affordable than a year's supply of disposable pads.
For an organization, this means lower procurement costs, combined with simplified and more affordable logistics as only one distribution moment per year is required.
Average woman
400
periods in her lifetime
3,500
days of her life menstruating
HYGIENIC AND DIGNIFIED
Millions of girls and women rely on unhygienic materials to absorb their monthly menstrual flow. These include old cloth, pieces of mattress and even reusing a disposable pad. In addition to these make-shift materials having a harmful impact on an individual's health, they are undignified, uncomfortable and can make completing simple daily tasks a challenge.
The reusable pad imitates the common re-using cloth method whilst providing women and girls with a more hygienic and dignified menstrual solution.
Positive Uptake
The complexities and challenges faced when trying to introduce a drastic behavioural change within development and humanitarian contexts can lead to a well-intentioned initiative, struggle with positive uptake.

The AFRIpads reusable menstrual Kits require no insertion, wash clean with cold water and soap and our simple Use and Care instructions are designed to be understood by a diverse audience.
In 2018, we undertook a pilot study with UNHCR to test the appropriateness and acceptability of AFRIpads reusable pads in the southwestern Ugandan refugee context. Product uptake among the study participants was 99% and respondents reported high levels of satisfaction with all aspects of AFRIpads.
99%
respondents reported high levels of satisfaction with all aspects of the AFRIpads.
Reference: Relief Web
Waste Reducing
2m
less disposable pads used in 2019
On average, a menstruating woman or girl will use around 200 disposable pads a year. As a result, single use menstrual products create enormous waste challenges, which can be exacerbated in humanitarian settings due to underdeveloped waste management infrastructures.
When switching to a reusable solution an individual or organization can drastically reduce its footprint on the environment.
Be kind to the planet and switch to reusables!
Durable
Reusable pads can be used for upwards of a year – contributing to peace of mind and security.
Our quality certified reusable pads are curated by our dedicated Research and Design team who draw upon our decade of experience and user feedback to ensure our product is ultra-durable and absorbent.
Our passion for quality has led AFRIpads to become the Co-Chair on the Standards Committee of the African Coalition for Menstrual Health Management (ACMHM) where we play a leading role in advocating for product standards and quality certification of reusable sanitary pads.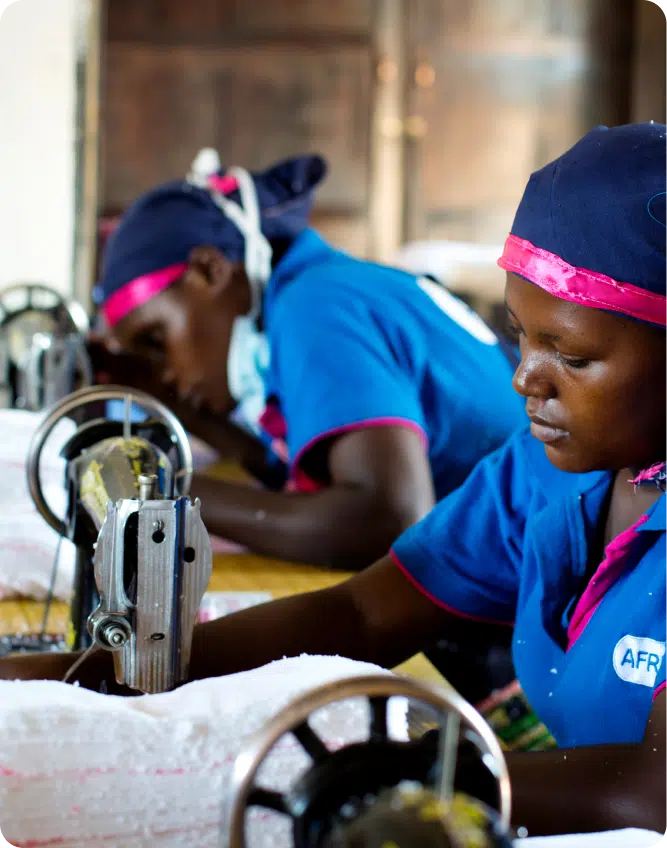 After seeing the transformational impact that a high-quality reusable menstrual solution can have on the health and wellbeing of women and girls, it has become our mission to ensure that AFRIpads' products are accessible to everyone that needs them.
Contact us today to find out how a reusable solution can work for you!