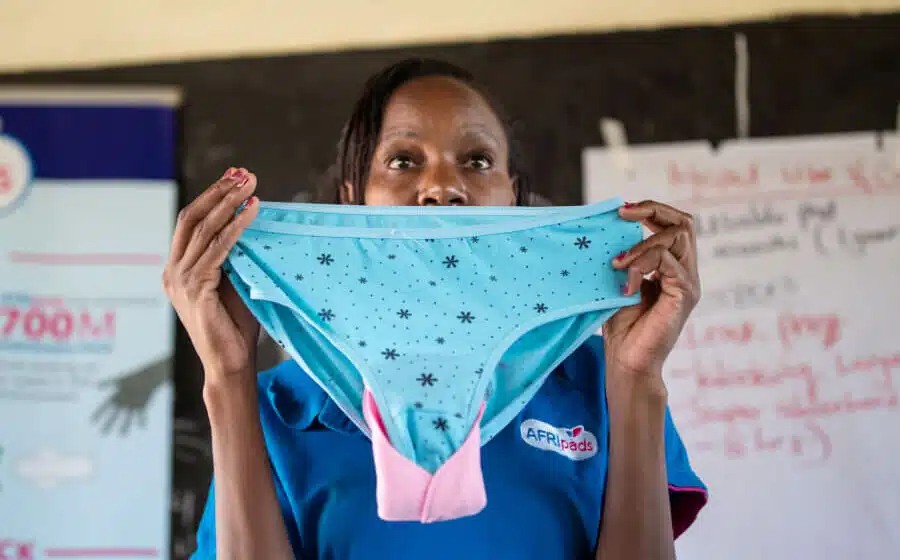 HOW TO USE
Place
Place pad in underwear
and button, soft side up
Wear
Change the pad
as needed
Fold
Fold used pad and
close button
Carry
Use the bag to
carry clean or used
pads
HOW TO WASH
Soak
Soak the pads
Wash
Use soap and
wash well
Squeeze
Squeeze out water
for faster drying
Dry
Dry outside in
sun or under cloth
Check if Dry
Fold and store
in dry safe place
How to Disinfect and Store pads after use
You can follow these steps to disinfect your pads every month. This is optional, but is helpful if done after your
period has ended to prevent bacteria from growing on the pads.
Wash
If pads are dirty, first wash with soap and clean water.
Boil Water
Prepare a pot/saucepan of
boiling water.
Boil Pad
Place pads in boiling
water and continue to
boil for 10 minutes.
Cool
Remove the saucepan
from the heat and allow
the water to cool.
Do not remove pads
when the water is hot.
Squeeze
When the water has
cooled to a safe tempe
rature to touch,
remove the pads and
squeeze out excess
water.
Dry
Dry pads outside in the
sun. Leave pads for two
hours longer than usual
to make sure the pad is
completely dry before
storing.
Store
When the pads are fully
dry, fold them (soft side
together) and store.
Pads should be kept in a
dry, clean, safe place.
Pads should not
be stored
If still wet
In plastic
On the ground
In a place that is
damp or wet