Welcome to the very first Partner of the Month appreciation blog! A new initiative celebrating partners from around the world driving period positive change.
Since we launched in 2010, AFRIpads has built over 200 meaningful partnerships. These partnerships have led us to provide over 3.5 million women and girls with a dignified menstrual solution. To bring you closer to our day-to-day activities, and to showcase our partners' amazing menstrual initiatives, a monthly AFRIpads' Partner of the Month award will encourage us to celebrate with you the great work going on behind the scenes.
August 2020: AFRIpads Foundation
This month, we have chosen the AFRIpads Foundation – an AFRIpads partner that has been with us since the very beginning. The AFRIpads Foundation is a charity dedicated to raising funds to ensure woman and girls are not held back by their period. For every 7,50 Euro donated to the AFRIpads Foundation, they provide a woman or a girl with an AFRIpads Menstrual Kit which offers menstrual protection for at least a year.
For donations to women, the AFRIpads Foundation provides the Standard 6-pack and one pair of AFRIpads Underwear and for donations to girls, the AFRIpads Foundation will provide our Schoolgirl Kit and one pair of underwear. All donations also include our Use and Care guides and access to our educational materials.
Since launching in 2010, the funds raised by the AFRIpads Foundation have impacted over 60,000 school age girls and women.
In recent years, the AFRIpads Foundation has shifted their focus to ensure their fundraising efforts provide a menstrual solution to girls residing in some of the most vulnerable settings in Uganda – who often get left behind because they are harder to reach. These include refugee girls, girls living on the streets, girls with disabilities and girl brides.
The AFRIpads Foundation and Rise Ghetto Initiative
It is a result of the Foundation's passion to reach the marginalized within the marginalized, that they are crowned as AFRIpads' Partner of the Month for August.
This month, the AFRIpads Foundation donated over 300 AFRIpads Schoolgirl Kits to beneficiaries of Rise Ghetto Initiative. This NGO empowers young women and girls living in ghetto areas to become who they aspire to be. To provide these girls with the tools they need to grow, the AFRIpads Foundation felt it was essential that they have access to a dignified menstrual solution. Alongside the donation of 300 kits, 300 girls supported by Rise Ghetto Initiative also received AFRIpads Underwear and a full Menstrual Health and Hygiene Curriculum training.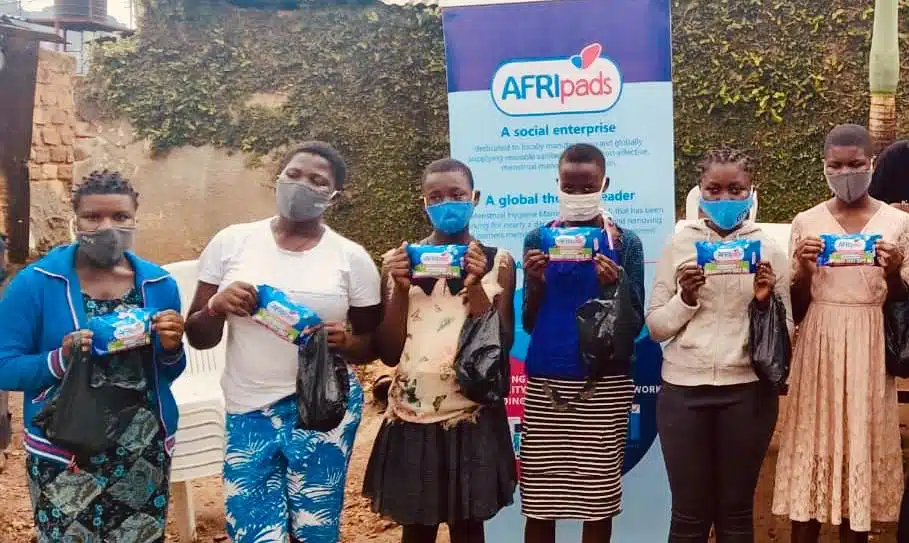 Whilst this is only one of thousands of donations made over the years by the AFRIpads Foundation, we felt it deserved recognition. In the midst of a global pandemic, it is more important than ever to ensure organizations such as Rise Ghetto Initiative can still receive much needed support.
Off the back of this donation, a 40-minute slot on NTV Uganda shone a light on the challenge's girls face whilst menstruating. AFRIpads joined Rise Ghetto Initiative and three of their beneficiaries to provide expert insight into the ways we can ensure girls are no longer held back by their period.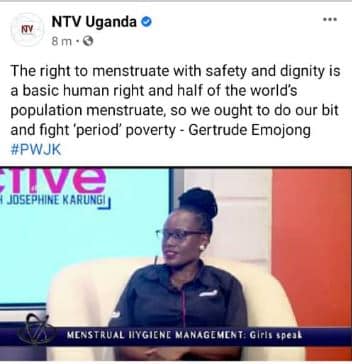 You can watch the full interview here.