In December 2017, the Ugandan Bureau of Standards (UNBS) passed one of the first standards for reusable sanitary pads in all of Africa. The standard is momentous for the menstrual hygiene management sector and is a bold leadership step for the Government of Uganda. AFRIpads hosted a press conference to announce the passing of the standard which was attended by members of government, civil society partners and media. Speakers at the press conference are pictured above (From left to right: Paul Grinvalds, CEO of AFRIpads; Sophia Grinvalds, Director of AFRIpads; RT Hon. Rebecca Kadaga, Speaker of Parliament; Angella Nansubuga, Gender Unit at the Ministry of Sports and Education; Patricia Ejalu, Deputy Executive Director of UNBS).
AFRIpads has been a key advocate for the standard for years and played a critical role in its development in partnership with UNBS and other reusable pad makers in the country. Since 2010, AFRIpads and ourUgandan retail brand, So Sure, have supported over two million women and girls with our life changing products. All AFRIpads and So Sure products are made locally out of a production facility in Masaka, Uganda that employs more than 150 Ugandan women. AFRIpads and So Sure are strong proponents of the Buy Uganda Build Uganda (BUBU) campaign and are evidence that high quality, world class products can be manufactured in Uganda.
"When we started AFRIpads in 2010, very few people in Uganda had ever heard of a reusable pad. Today, the Ugandan Government now boasts one of only two standards in Africa for reusable sanitary pads. This is momentous progress." – Sophia Grinvalds, Director of AFRIpads Ltd.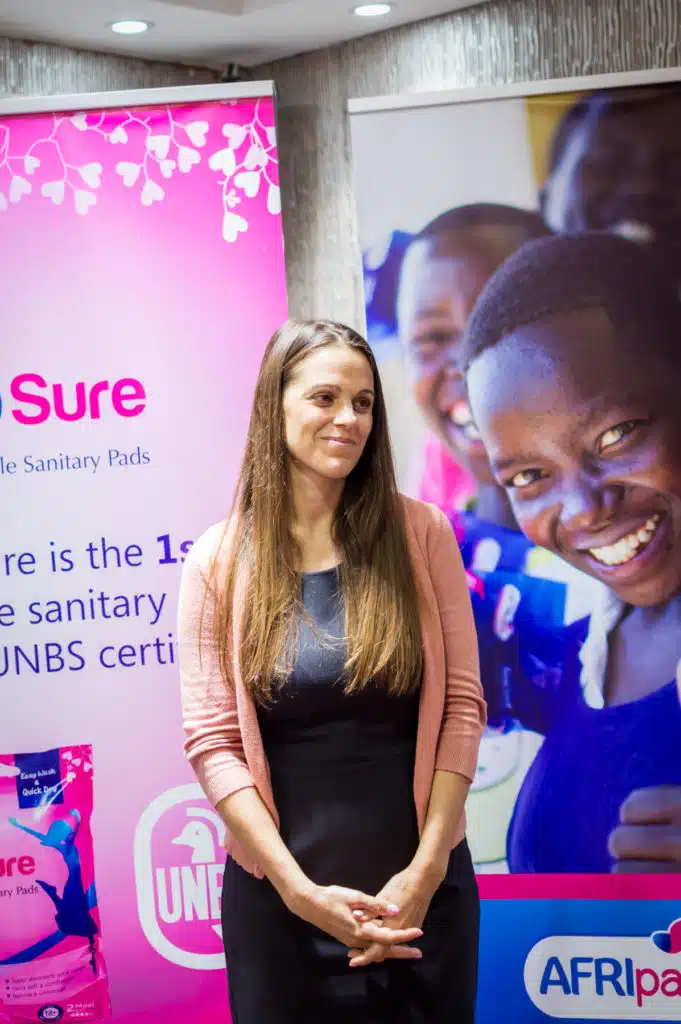 The new UNBS standard for reusable sanitary pad is a key stepping stone to mainstreaming reusable sanitary pads as a product in Uganda and Africa at large. Women and girls in Uganda face significant challenges while menstruating because of lack of access to affordable feminine hygiene products and stigma around menstruation. This is made evident in the gender disparities between boys and girls in secondary schools in Uganda.  Reusable sanitary pads, like So Sure, offer an affordable and long lasting solution that enables girls to stay in school longer and women to participate fully in the workforce.
The new UNBS standard will build consumer assurance that UNBS certified reusable sanitary pads are safe for use – an assurance that all Uganda consumers deserve. The standard will also open up new doors for trade and export, putting Uganda on the map as a leading supplier of reusable sanitary pads in Africa.
The new standard epitomizes Uganda's leadership in the menstrual hygiene management sector. The standard is one of only two in Africa and was developed in close collaboration with partners on the ground, including AFRIpads, who have deep insights on the menstrual hygiene needs of girls and women in Uganda.  Beyond the standard, the Government of Uganda has been a long time leader in the menstrual hygiene management space as evidenced by Honourable Rebecca Kadaga's fundraising drives to bring reusable sanitary pads to vulnerable girls across the country as well as the Ministry of Education and Sports' coordination of the Menstrual Hygiene Management Steering Committee.
With over 12 million women and girls of menstruating age in Uganda, it has never been more critical for the Government of Uganda and partners like AFRIpads to work together to ensure that no woman in Uganda is held back by something as natural and normal as her period.
"We hope that this standard will act as a model for other governments in the region, and will soon be adopted by the East African Community. Thank you to everybody in UNBS who ensured that the standard came to fruition and to partners like AFRIpads and So Sure who have helped shape the industry for reusable pads in Uganda." – Honourable Rebecca Kadaga, Speaker of Parliament.